Bass Buggie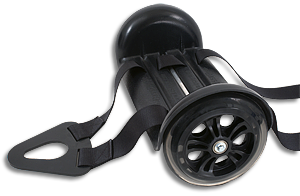 Created by Rick Williams, The Bass Buggie by KC Strings will relieve you of your double bass weight and offer much ease to move around on wheels.
The BEST in the industry so far, so good your bass can even stand on its own!
The Bass Buggie body:

Made in the U.S.A.
Can strap onto the bass body with or without a bag.
Does not put pressure on the lower block like an end-pin wheel (bass wheel) including from bumps in the walkway!)
Allows the bass to stand upright.
Works indoors as well as outdoors!
Is made of durable high impact molded plastic.
Overall dimensions are 36cm length and 16cm in diameter (wheels, height & width).
Inside platform length is 28.5cm.
Weight is 3 lbs., 2 oz.
It straps onto the endpin-body and the neck of the bass.
Adjusts to any size bass from 1/10 to 4/4.
Has non-marking durable wheels
Unlike a "bass wheel", the Buggie:

Rolls easily and straight on ball bearing wheels.
Can make the bass stand upright on its own without support.
Allows endpin to remain in place while in use.
Does not put pressure on the lower block and prevents impact to the lower block from bumps in walkway.
Has a flexible body that allows shock absorption, therefore, further protecting the instrument.
For very rough terrain, the 'buggie Cushion' (see below) can be attached to the bass buggie body.